Invention of PBCF (Propeller Boss Cap Fin)
In 1987, we invented PBCF (Propeller Boss Cap Fins), a device to recover the energy wasted as vortex and consequently reduces the torque of the propeller and increases the thrust, by focusing on the propeller hub vortex which has been discarded as a cause of energy loss in marine propellers. The PBCF was confirmed to provide 4% reduction in power on MOL's PCC "Mercury Ace" and was commercialized.
Sales of the PBCF have been increasing steadily with orders exceeding 1,000 vessels at the beginning of 2006. In recent years, a rise in fuel oil prices has doubled the pace of growth, to more than 3,500 vessels today.
Since the PBCF is located at the rear of the propeller, its particulars are greatly affected by the propeller specifications. However, it has little effect on the hull shape, therefore it is expected to be effective for all types of ships. The PBCF enables the recovery of 3 to 5% of the hub vortex energy loss, which not only reduces fuel consumption but also contributes to the global environment by reducing CO2 emissions.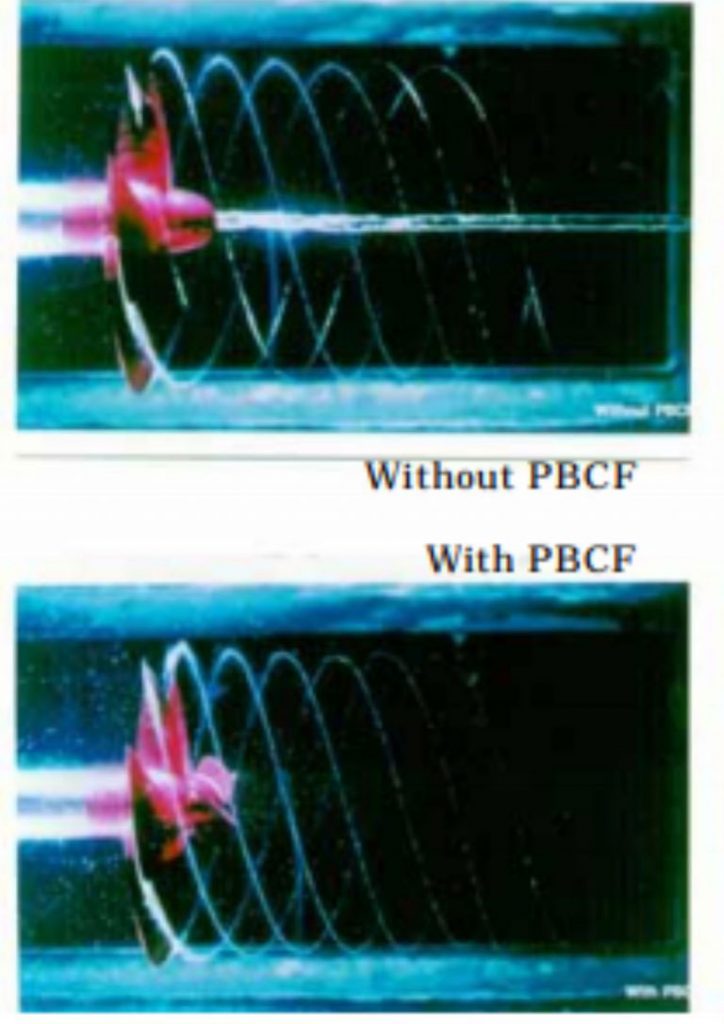 PBCF Brief History
1986. 9 Mitsui O. S. K. Lines, West Japan Fluid Engineering Laboratory and Mikado Propeller have started joint R&D
1987. 3 The PBCF effect was found by the new propeller test method (reverse propeller open water test)
1987. 7 Patent application (jointly filed by the mentioned companies)
1987. 9 PCC "Mercury Ace" sea trial confirmed 4% improvement in efficiency
1987. 9 The three mentioned companies signed a basic Commercialization Agreement and started the marketing business
1988. 3 Cavitations tests at the University of Tokyo confirmed the elimination of the hub vortex
1988. 5 Technical paper presented to The Society of Naval Architects Japan
1988. 6 Performed detailed measurements of the slip stream field at MARIN (The Netherlands)
1989. 6 Display of actual unit at Nor-Shipping Exhibition (Oslo)
1990. 1 Installation of the first CPP model on the ferry "New Pegasus"
1991.12 Development of the PBCF "Kantaro" for small boats and launching sales from Mikado Propeller.
1994. 7 Transfer of PBCF sales business from Mitsui O.S.K. Lines (MOL) to M.O. Ship Management(current MOL Techno-Trade)
1996. 9 Japanese patent was established
2000. 6 Ship with PBCF equipment was certified as an Eco-Ship by Japanese government
2002. 6 Ship with PBCF equipment was certified as e-ship (ship with reduced CO2 emissions)
2005. 8 Approved as an energy-saving device by NEDO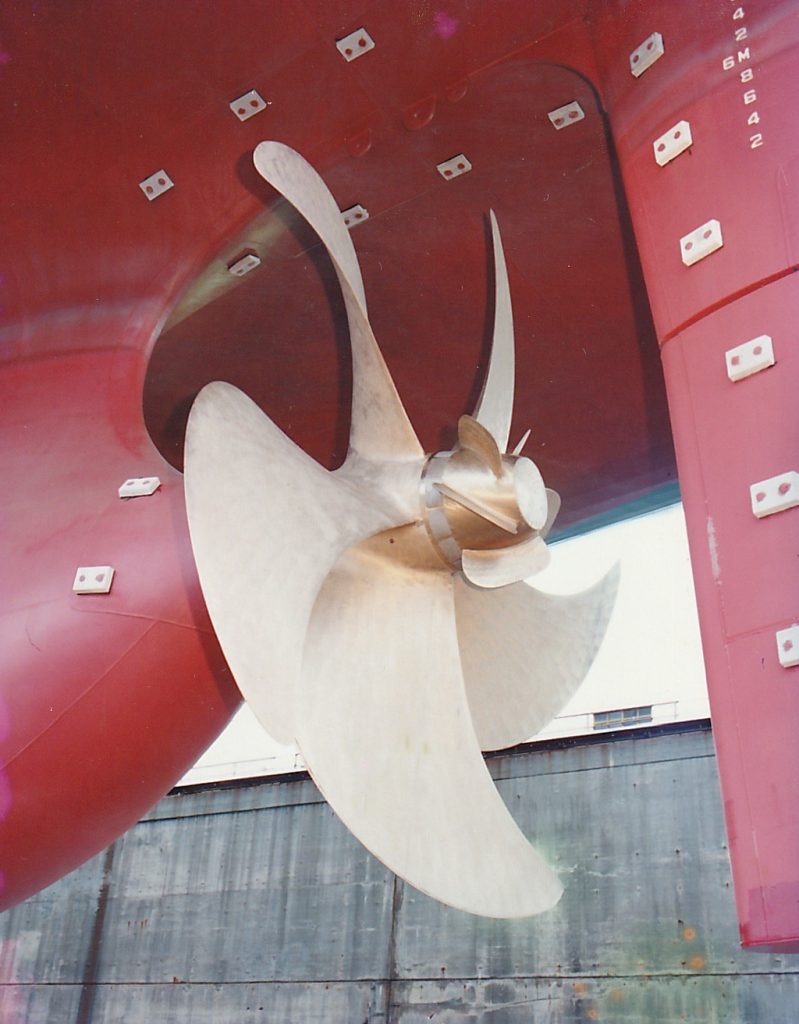 Main awards history
1990.2 The Excellent Energy Saving Equipment Award, Japan Machinery Federation
1990.5 The Society of Naval Architects of Japan Award
1991.5 Japan Society of Marine Engineers Award
1991.7 Ministry of Transport Award
PBCF website(MOL Techno-Trade)